Passover Traditions: A Guide to Customs and Cuisine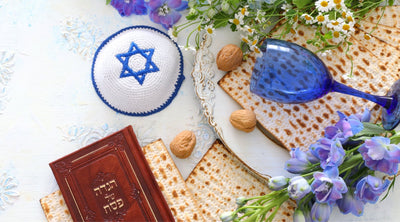 Passover is one of the most significant Jewish holidays, commemorating the liberation of Jews from slavery in ancient Egypt. The eight-day festival is marked by various customs, rituals, and dietary restrictions. It's a time for reflection, family gatherings, and feasting on traditional foods.
In this blog post, we'll explore the meaning of Passover and the foods eaten (and not eaten) during the holiday. We'll also delve into the differences between Sephardic and Ashkenazi Passover traditions and share a delicious Charoset recipe using Sadaf Charoset seasoning.
What is Passover?
Passover, or Pesach, is a Jewish holiday celebrated in the springtime. It begins on the 15th day of the Hebrew month of Nisan and lasts for eight days (seven days in Israel). The holiday commemorates the liberation of Jews from slavery in Egypt and the Exodus led by Moses.
During Passover, Jews remember their ancestors' escape from Egypt by reading from the Haggadah, a book that tells the story of the Exodus. The holiday is also marked by various customs, including cleaning the house to remove all leavened products (chametz) and eating matzo, an unleavened bread.
Passover Foods
During Passover, Jews observe various dietary restrictions, including not eating any leavened bread, pasta, or grains. Instead, they eat matzo, potatoes, and other vegetables. Here are some of the traditional Passover foods:
Matzo ball soup – a soup made with chicken broth and matzo balls Brisket – a slow-cooked, tender beef dish
Charoset – a sweet paste made of chopped nuts, fruits, and wine
Gefilte fish – a fish ball made with ground fish, onions, and spices
Matzo brei – a dish made with matzo, eggs, and butter
Kugel – a sweet or savory casserole dish made with noodles or potatoes
Passover Traditions: Sephardic vs. Ashkenazi
The Passover traditions vary among Jewish communities, with two main groups: Sephardic and Ashkenazi. Sephardic Jews are those who trace their ancestry back to the Iberian Peninsula (Spain and Portugal). On the other hand, Ashkenazi Jews are those who trace their ancestry back to Central and Eastern Europe. 
One of the most notable differences between Sephardic and Ashkenazi Passover traditions is the Charoset. Sephardic Charoset is made with dates, figs, and nuts, while Ashkenazi Charoset is made with apples, cinnamon, and wine. The recipe we're sharing today is a Sephardic Haroset recipe, using Sadaf Charoset seasoning.
Charoset Recipe using Sadaf Charoset Seasoning
Ingredients:
2 cups chopped walnuts
1 cup chopped Sadaf dates
1 cup chopped figs
1 tsp. Sadaf Charoset Seasoning
1/4 cup sweet red wine
1 tsp. Sadaf honey
Instructions:
In a large mixing bowl, combine the walnuts, dates, and figs.
Add the Sadaf Charoset seasoning and mix well.
Pour in the sweet red wine and honey and stir until well combined.
Cover the bowl with plastic wrap and refrigerate for at least 2 hours.
Serve the Charoset chilled as a spread for matzo!

At Sadaf Foods, we understand the importance of celebrating Passover with traditional foods and seasonings. That's why we offer a variety of Passover products, including our Charoset seasoning, which can be used to create a delicious and authentic Charoset recipe.

We invite you to explore our Passover products and add some authentic flavor to your Passover meals. From all of us at Sadaf Foods, we wish you a happy and meaningful Passover celebration!