Lamb Kabobs with Pomegranate Molasses Marinade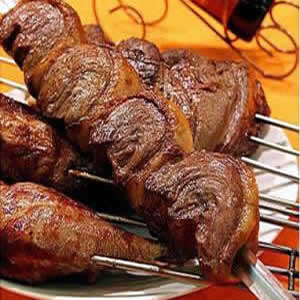 Lamb Kabobs with Pomegranate Marinade
Ingredients:
Instructions:
In a large bowl, mix together the pomegranate molasses, olive oil, garlic, cumin, coriander, smoked paprika, cinnamon, black pepper, and salt.
Add the lamb cubes and toss to coat evenly. Cover and refrigerate for at least 2 hours or up to 24 hours.
Preheat grill to medium-high heat.
Thread the lamb cubes, onion, and bell pepper wedges onto skewers.
Grill the skewers for 12-15 minutes, turning occasionally, or until the lamb is cooked through and vegetables are slightly charred.
Serve the kabobs with your favorite side dish and enjoy the delicious combination of pomegranate and lamb flavors.
Note: If you don't have skewers you could use metal or wooden skewers soaked in water for 30 minutes before using them, this will prevent the skewers from burning.