Ghondi (Persian Chickpea and Meatball Soup)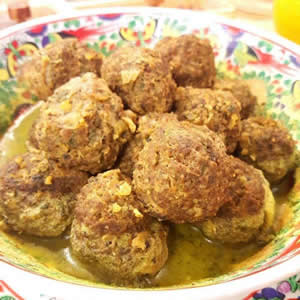 Ingredients:
1 cup dried Sadaf chickpeas, soaked overnight and drained
1 1/4 cup ground turkey or chicken breast
1 cup ground onion
1 teaspoon Sadaf ground cardamom
1/2 teaspoon salt
1/2 teaspoon pepper
1 teaspoon Sadaf Turmeric
8 cups chicken broth
Pita bread and fresh basil leaves, for serving
Instructions:
In a large mixing bowl, combine the chickpeas, ground turkey or chicken breast, ground onion, Sadaf ground cardamom, salt, pepper, and Sadaf Turmeric. Mix well.
Form the mixture into 2-inch balls, making sure to press them well to ensure the ingredients stick together.
In a large pot, bring the chicken broth to a boil.
Carefully drop the meatballs into the boiling broth.
Reduce the heat to low and let the meatballs simmer for 30 minutes.
Serve the Ghondi hot with pita bread and fresh basil leaves on the side.
Note: Ghondi is a traditional Persian dish that is a hearty and satisfying soup made with chickpeas and meatballs. The combination of spices like Sadaf ground cardamom, turmeric and herbs like basil leaves, makes it deliciously fragrant and flavorful. It's perfect for cold winter days or as a comforting meal.