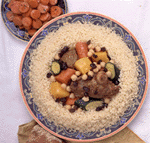 Mediterranean Couscous is a flavorful and healthy dish that is perfect for a quick and easy meal. It is made with a combination of couscous, vegetables, and spices, which are all infused with Sadaf products like olive oil, red wine vinegar, and various herbs and spices to give it a unique and delicious flavor. It is also a perfect side dish, or main course as well as a great option for potluck or picnics.

Ingredients:
Instructions:
In a medium pot, bring the vegetable or chicken broth to a boil. Add the couscous, reduce the heat, and cover. Let simmer for 10-12 minutes, or until the couscous is tender and fluffy.
Remove the pot from the heat and fluff the couscous with a fork. Add the Sadaf extra virgin olive oil and Sadaf red wine vinegar and mix well.
In a small bowl, mix together the Sadaf ground cumin, Sadaf ground coriander, Sadaf ground turmeric, Sadaf smoked paprika, Sadaf ground cinnamon, salt and pepper. Sprinkle the spice mixture over the couscous and mix well.
Add the diced vegetables and crumbled Sadaf feta cheese to the couscous and toss well.
Garnish with fresh parsley or mint.
Serve the Mediterranean Couscous as a side dish or as a main course, along with your choice of protein.