Sadaf's Simple and Easy Hummus Recipe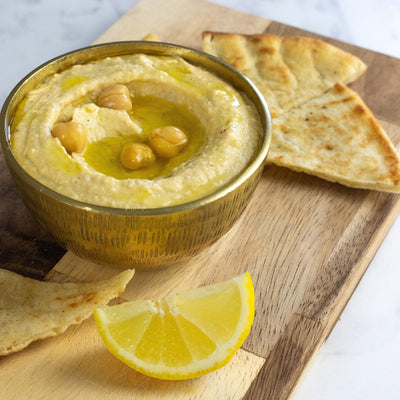 Sadaf's Simple and Easy Hummus Recipe

Hummus is a classic Mediterranean dip made from chickpeas, tahini, lemon juice, and garlic. Sadaf's recipe is simple and easy, and it can be ready in minutes. It's a versatile dip that can be enjoyed with various types of bread, vegetables, and can also be used as a spread in sandwiches. You can also add some variations like lemon juice, garlic or herbs to make it more flavorful.

Total Time: 15 minutes Diet: Vegan/Vegetarian
Ingredients: (Serves 6)
3/4 cup Sadaf canned chickpeas, drained and rinsed
1/2 cup Sadaf tahini
3 tablespoons freshly squeezed lemon juice
3 cloves garlic, minced
3-6 tablespoons ice water
Salt to taste
Instructions:
In a food processor or blender, combine the chickpeas, tahini, lemon juice, garlic, and a pinch of salt.
Slowly add the ice water, 1 tablespoon at a time, while blending, until the hummus reaches the desired consistency.
Blend for an additional 5 minutes or until smooth and creamy.
Taste and adjust seasoning as necessary.
Serve the hummus with pita bread, pita chips, carrots, celery, or use it as a spread in sandwiches.
For a traditional Mediterranean flavor, top the hummus with Sadaf Extra Virgin Olive Oil and sprinkle with Sadaf Za'atar.