Easy Recipes: Preparing Sadaf's Mediterranean Tabouli Mix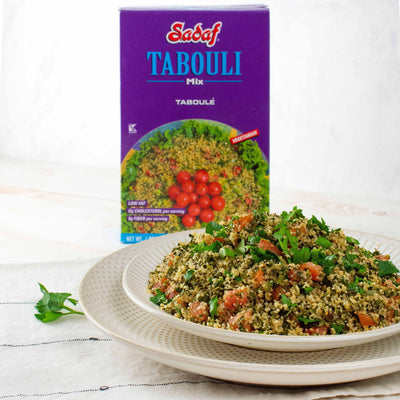 Tabouli, or Tabbouleh, is a traditional Middle Eastern salad made simply with bulgur, herbs, and spices. Sadaf's Tabouli Salad Mix is made using wholesome ingredients, a homemade recipe, and produced locally in Los Angeles. This simple-to-make side dish, appetizer, or mezze is packed full of herb and spices for a fresh and light flavor. A great side to fish, vegetables, falafels, or meats. With 9g of fiber per serving, this dish is the perfect addition to any vegan or vegetarian diet. Our recipe is made without the use of MSG, artificial ingredients, colors, or preservatives. Sadaf Foods prides itself on sourcing and selecting only the finest foods and ingredients for our customers. To prepare, soaking in water, covered, for 20-30 minutes until the bulgur is tender. Fluff with a fork and enjoy as-is, or mixed with fresh tomato, lemon juice, and extra virgin olive oil. Full instructions below. Ingredients: 1/4 c Extra Virgin Olive Oil 3 medium diced tomatoes (seeded and drained) 3 tbs lemon or lime juice 1 c chopped fresh mint & parsley Preparation Instructions: In a bowl add the entire contents of Sadaf Tabouli Mix to 3 cups of cold water and mix. Mix together with olive oil, tomatoes, and your choice of lime or lemon juice. Top with a handful of chopped mint and parsley. Cover and allow to chill in the refrigerator for 30 minutes prior to serving.

Package Ingredients: 

Bulgur, Parsley Flakes, Minced Onions, Citric Acid, Mint cut, Granulated Garlic, Spices, Salt, Pepper.