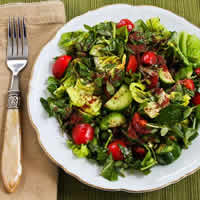 Ingredients: (Serves 4-6)
Instructions:
In a small bowl, whisk together the lemon juice, sumac, garlic, mustard, salt, and pepper.
Slowly pour in the olive oil, while whisking constantly, until the vinaigrette emulsifies and thickens.
Taste and adjust seasonings to your preference.
Use immediately or store in an airtight container in the refrigerator for up to a week. Shake well before using.
Toss with your favorite salad greens or use as a marinade for chicken or fish.